Umrah visa Process in Dubai | Green Apple Travel and Tourism
Obtain your Umrah travel entry pass through Green Apple Travel and Tourism in Dubai. No interviews required. Simply email us the needed documents ? no original passport or office visit necessary
Address:
301A API WORLD TOWER, Trade Center - Dubai
Umrah Travel Entry Pass Documentation Services in Dubai
Embark on your sacred Umrah journey with ease, thanks to the streamlined travel entry pass documentation services provided by Green Apple Travel and Tourism in Dubai. Our experienced team is committed to simplifying the process, offering personalized service to meet your unique needs. We focus on providing a smooth and swift experience, ensuring your spiritual journey begins seamlessly. Let us take care of the documentation while you prepare for this fulfilling experience. Trust in our expertise for an effortless Umrah travel entry pass solution. For assistance, contact us at [email protected] or call 043333221.
Tourist Visa Requirements for Umrah
Passports valid for six (6) months or more.
UAE residence visa valid for three (3) months or more.
Copy of Emirates ID.
2 Photos with white background. (Photoshoot available in our office.)
NOC letter from your employer or proof of business ownership.
Vaccination card from any government hospital.
For business owners/partners, a trade license copy with your name is required.
Biometrics should be done from VFS TASHEEL INTERNATIONAL.
Note and Processing Time for Umrah Visa
Biometrics are required to be done from VFS TASHEEL INTERNATIONAL. The processing time for an Umrah visa is typically 4-5 working days.
With Green Apple Travel & Tourism, you can focus on the spiritual aspects of your Umrah, while we ensure a hassle-free preparation for your journey. Our commitment to efficiency and customer satisfaction makes us the ideal choice for your Umrah travel documentation needs.
---
Customer Reviews
★ ★ ★ ★ ★
Based on
762
reviews
Good Service and accommodating. thank you for Ms, Rayanne for assisting me for the tour package in georia. Everything is fine for the tour arrangement
A reliable and friendly service. Ms Haydee is very helpful, keeping all the data and getting everything done after a single communication without any followups. I highly recommend their service.
Amazing service. Quick easy. Got a thailand visa for 2 days for 350 dhs. While others consider this a urgent processing and charge the double. Thank you guys
I m very thankful to green apple travel service it?s very good specially for Ms.Brenda she?s very helpful and great in follow up for all the documents and appointment and I was able to get uk ???? and schengen visa ???? ones again thanks green apple ??
I would like to thank Ms. Brenda who made the entire visa process very simple and easy for us. Thank you so much we got the visa done in exactly 7 days.
i really thank Kate for helping me approve my b visa for USA, she is patient and available to answer you all time. i highly reccomend them
Visa Applications
Comprehensive visa application services for various countries.
Document Preparation
Expert guidance on preparing and submitting the required documents.
Application Tracking
Stay informed about the progress of your visa application.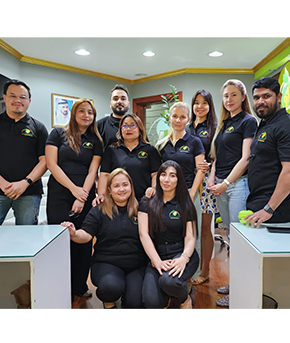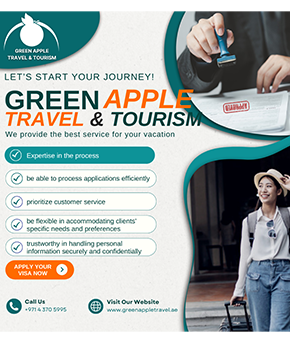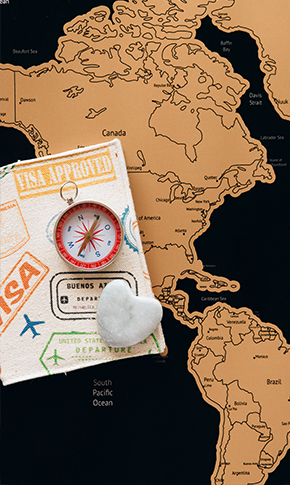 Why Choose Green Apple Tourism?
We Make Our customers happy by giving Best services.
Expertise
Our team of experienced professionals specializes in visa applications for countries around the globe.
Personalized Support
We guide you through the entire application process, ensuring a stress-free experience.
Competitive Pricing
We offer affordable rates and flexible payment options to cater to your needs.
Fast Processing
Our efficient processes ensure quick turnaround times for your visa application.
SEE HOW WE WORK
Experience seamless visa application services in Dubai.
Our expert team specializes in providing efficient and reliable visa application services to Dubai for a hassle-free travel experience. Trust us to handle all your visa needs with utmost professionalism and attention to detail.