Bahrain Visa Application in Dubai, Quick Approval!
Secure your Bahrain Travel Entry Pass in Dubai through Green Apple Travel & Tourism. Simply email us the necessary documents; no original passport or office visit is required
Address:
301A API WORLD TOWER, Trade Center - Dubai
Bahrain Travel Entry Pass Application Services in Dubai
Embark on your Bahrain adventure with the hassle-free travel entry pass application services from Green Apple Travel & Tourism in Dubai. Our team specializes in handling all necessary paperwork and guiding you through each step of the process, ensuring a quick and reliable service. We focus on making your Bahrain travel preparation smooth and stress-free. For professional and efficient visa assistance, contact us at [email protected] or call 043333221.
Tourist Visa Requirements for Bahrain
Passports valid for six months or more.
UAE residence visa valid for 6 months or more.
Processing Time for Bahrain Tourist Visa
The processing time for a Bahrain tourist visa is typically 3-5 working days.
Our Service for Bahrain Tourist Visa
Expert advice on documentation needed for Bahrain visa application.
Assistance with filling out the online visa application.
Completing the visa fee payment process.
Rely on Green Apple Travel & Tourism for an efficient approach to your Bahrain visa application. We are dedicated to ensuring your visa process is straightforward and free from complications, allowing you to look forward to your trip to Bahrain with excitement.
---
Customer Reviews
★ ★ ★ ★ ★
Based on
762
reviews
CCTV Technicians 5 years saudi Arabia and electronics
Great service, great support. The visa was done very quickly. I recommend.
hi i am ashok i visit to green apple and service is fantastic and i will apply visa throw by green apple hope cobfirm i will get visa
For visa application, everything went smoothly and hassle free. Rayene was very helpful and provided clear information. Thanks for the support.
It was a great experience with Green Apple's Consultant Ms Kate for getting our US Visas done.Thank you for your efforts and excellent service.
The services provided to me when I applied for my Uzbekistan visa was superb. I received a very professional assistance from Tanya - very proactive and helpful.
Visa Applications
Comprehensive visa application services for various countries.
Document Preparation
Expert guidance on preparing and submitting the required documents.
Application Tracking
Stay informed about the progress of your visa application.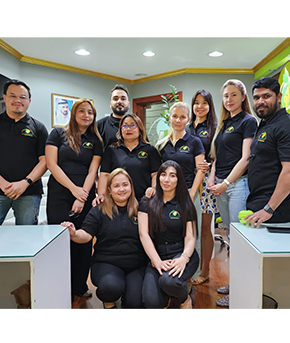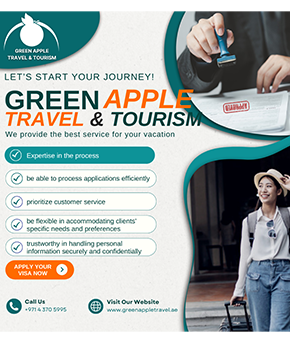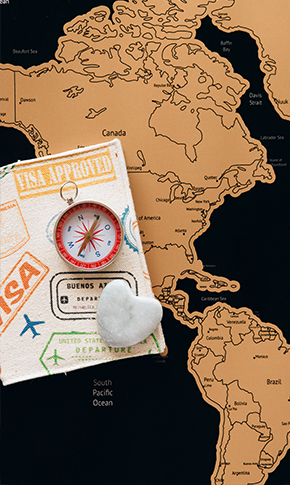 Why Choose Green Apple Tourism?
We Make Our customers happy by giving Best services.
Expertise
Our team of experienced professionals specializes in visa applications for countries around the globe.
Personalized Support
We guide you through the entire application process, ensuring a stress-free experience.
Competitive Pricing
We offer affordable rates and flexible payment options to cater to your needs.
Fast Processing
Our efficient processes ensure quick turnaround times for your visa application.
SEE HOW WE WORK
Experience seamless visa application services in Dubai.
Our expert team specializes in providing efficient and reliable visa application services to Dubai for a hassle-free travel experience. Trust us to handle all your visa needs with utmost professionalism and attention to detail.