China visa application in Dubai - High Approval with Green Apple Travel
Arrange for your China visa application in Dubai effortlessly with Green Apple Travel and Tourism. Schedule your appointment quickly and enjoy our reliable service, boasting a high visa approval rate
Address:
301A API WORLD TOWER, Trade Center - Dubai
FAQ
Frequently asked questions
How can I get China visa from Dubai?

To obtain a China visa from Dubai, Green Apple Travel & Tourism can facilitate the application process. Provide us with your documents, and we will handle the rest, including submission to the Chinese consulate.
Can Dubai residents travel to China?

Dubai residents can travel to China with a valid visa. The type of visa needed will depend on the reason for travel. Our agency can assist in determining the right visa type for your trip.
Is China visa available now?

The availability of China visas is subject to the latest diplomatic guidelines and international agreements. Applicants should verify the current status with an official source or contact us for the most recent information.
Where to apply for China visa?

Applications for China visas can be made at the Chinese Visa Application Service Center or with the assistance of accredited travel agencies like ours.
China visa application in Dubai with Green Apple Travel and Tourism
Setting up a China Visa Appointment in Dubai is seamless with Green Apple Travel and Tourism. Known for our high approval rate, we ensure a stress-free experience in your China visa application.
Our expert team will guide you through every step, ensuring all documentation is prepared for submission. With our efficient and trustworthy services, planning your trip to China becomes more convenient.
Tourist Visa Requirements
Original passport (valid for more than 6 months).
Valid UAE residence (Minimum 3 months validity).
One passport size photo with white background.
NOC from Sponsor addressed to the Chinese Consulate.
Copy of valid UAE Trade License and Emirates ID.
Visa Validity Options
Single Entry: 90 days valid with 30 days staying.
Double Entry: 90 days valid with 30 days staying.
6 Months and 1 Year visas available for frequent travelers.
Processing Types
Normal Process: 5-6 working days.
Express Process: 4 working days.
Business Visa Requirements
Invitation letter from a Chinese company.
Similar requirements as the Tourist visa.
With Green Apple Travel and Tourism, you can be assured that your China visa application is in capable hands, allowing you to focus on planning your exciting journey.
---
Customer Reviews
★ ★ ★ ★ ★
Based on
765
reviews
Very convenient service. Sajjad was very supportive throughout the process. Ask for him the next time you are applying for Visa.
This is to say thank you to Rayene,this my first time to fly to Kazakhstan,being Kenyan nationality i thought it would be difficult,i really wanted an agency that i could trust knowing i will be flying there often for work i needed office i can work with4 long term First i was frustrated my texts were not being answered on time till i reached out to Rayene.she was so supportive.proccesed my invitation within 6days initially i was informed i had to wait for 10days but she made it possible, now i have my visa thanks to her. Would recommend people to look for her if they need guidance and support. Thank you Rayene u deserve flowers and after my trip am dropping them person?????? My second travel in Almaty my visa process was much quicker did everything online assisted by Rayene again,it safe to say you can trust green apple to do all ur process online without visiting them just contact Rayene and she got u covered again much apperriciated gal
Green Apple Tourism most recently helped me with getting a tourist visa for Singapore. The entire process was extremely seamless. My agent Ruema was highly experienced, organised and efficient. Highly recommend her and the rest of the team for their visa related services!
Thank you to Green Apple Travel & Tourism and Ms. Rayane for the professional service she did to get the visa to Greece. I'm very happy with her service; she's very professional, kind, and has a very quick response. I will highly recommend Ms. Rayane and Green Apple Travel to others.
Great service! Highly recommend green apple for their travel services?Dima has been extremely prompt and she managed to get my family visa application processed in less than three hours. Keep it up
Excellent service, Dima went above and beyond making sure I had to do as little as possible while handling the documents booking and clarifications. She even followed up after the appointment to make sure all went well and all in all she was exemplary in her attitude and professional in every single step and detail.
Dima was absolutely amazing in helping me getting a tourist visa for one of my colleagues! She was very fast in replying and guiding me through the process. The process was super fast as well. I'm pleasantly surprised.
Thanks for Kate for your help to apply for our UK Visas. She is so professional and did everything Ina. Proper way with our documents. And we got our UK visa I will recommend her to my friends also
I really appreciate Ms.Kate she has provided excellent services and assistance time to time which make my application successful for Netherlands visa . From appointment till submission of documents she was very supportive and very quick response for all my doubts.I have received my visa within 15days, she was above my expectations. Well appreciated and Thank you so much Ms.Kate for all your support.
Visa Applications
Comprehensive visa application services for various countries.
Document Preparation
Expert guidance on preparing and submitting the required documents.
Application Tracking
Stay informed about the progress of your visa application.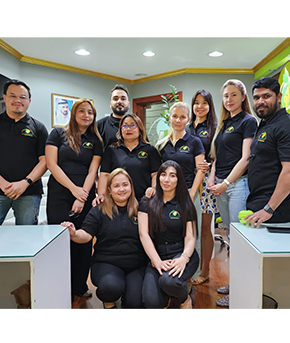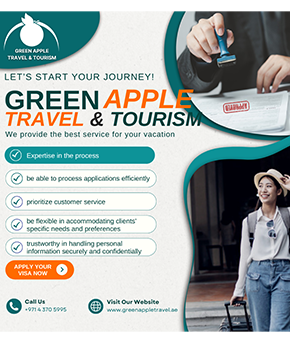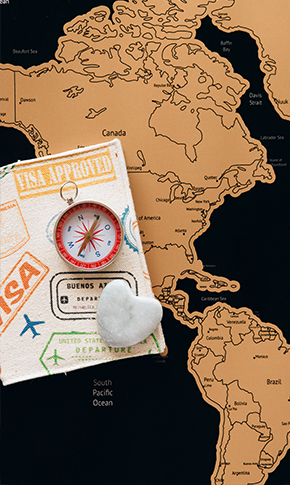 Why Choose Green Apple Tourism?
We Make Our customers happy by giving Best services.
Expertise
Our team of experienced professionals specializes in visa applications for countries around the globe.
Personalized Support
We guide you through the entire application process, ensuring a stress-free experience.
Competitive Pricing
We offer affordable rates and flexible payment options to cater to your needs.
Fast Processing
Our efficient processes ensure quick turnaround times for your visa application.
SEE HOW WE WORK
Experience seamless visa application services in Dubai.
Our expert team specializes in providing efficient and reliable visa application services to Dubai for a hassle-free travel experience. Trust us to handle all your visa needs with utmost professionalism and attention to detail.