Expert South Korea Visa Assistance in Dubai - Green Apple Travel & Tourism
Planning a trip to South Korea from Dubai? Reach out to Green Apple Travel & Tourism and consult with our South Korea visa specialist for all your inquiries
Address:
301A API WORLD TOWER, Trade Center - Dubai
FAQ
Frequently asked questions
How can I get a South Korea visa from Dubai?

Apply at the Korean Embassy in Dubai or use our professional services for guidance and assistance with your application.
What are the requirements for a South Korea visa for UAE residents?

Requirements include a completed application form, passport-sized photo, travel details, and sometimes proof of financial means and accommodation.
Is it difficult to get a South Korean visa for UAE citizens?

The difficulty varies based on the applicant's circumstances. Utilizing our services can significantly simplify the process.
How long does it take to obtain a South Korea visa from Dubai?

Processing times may vary, but generally, it takes about 7 to 10 days. Expedited services may be available through our agency.
Expert South Korea Visa Assistance in Dubai with Green Apple Travel & Tourism
Planning a trip to South Korea from Dubai? Get expert visa assistance with Green Apple Travel & Tourism. Our experienced team specializes in South Korea visa services, ensuring a smooth and hassle-free application process.
Whether you need a tourist visa, business visa, or are planning a long-term stay, we provide comprehensive solutions for all your travel needs.
Tourist Visa Requirements for South Korea
Minimum 2 years of residency in UAE.
Original Passport valid for at least 6 months.
UAE Residence visa valid for at least 6 months.
One passport size photo with white background (Photoshoot available).
NOC from company & Trade License copy.
3 months bank statement (min AED 30,000 depending on nationality).
Confirmed Hotel Booking and Flight Ticket.
Visa Validity and Processing Time
The South Korea visa has a validity of 90 days with a 30-day stay (Single entry). Processing can take up to 14 working days.
With Green Apple Travel & Tourism, your South Korea visa application is in expert hands, allowing you to focus on preparing for your exciting journey.
---
Customer Reviews
★ ★ ★ ★ ★
Based on
771
reviews
Dima has supporter me perfectly with my visa to Japan.
Worked with Sajjad and he was highly responsive and efficient! I totally recommend to work with him
Sajjad is very helpful and I recommend Green Apple Travel for any visa related requirements
I applied for my Russia Visa through these guys, professional people. Ms Ruema assisted me through it all, very helpful. Again, I applied for my Canadian Visa from Green Apple. Ms. Vanessa was of great assistance. She walked us through each and every procedure and helped us a lot in our application. My special thanks to her.
Received help with applying to Visa for turkey for my family, Got our visas in 5 days. Special thanks to Kate, she was very helpful and answered all my questions. Will be back for future travel requirements
Recommend Travel agency specially Mr Ali. Very attentive and smart, Professional in Schengen visa. He made my application possible and got my Greece visa in just 3 days. Thank you again for making my travel goal possible. Genevieve
I dealt with this agency to get an e-visa to Indoensia. Took exactly 14 working days as per the scheme I paid for. Not cheap but reliable service. Thanks to Rayene for her support and for being easily reachable.
I made my visa to go to Thailand through them. Ruema was very attentive and fast. She did not miss any detail related the papers I most have in order to complete the process. Thank you! Definitely recommended
Odette Rammah (MiddleEast)
I worked with Green Apple on my husband's schengen visa. The team is absolutely fantastic and extremely knowledge and was so supportive despite my never ending questions and change. My only ask of Green Apple Travel and Tourism management is to check on their team bandwidth and the support they need. I got a feeling they are overloaded with requests and overwhelmed. At least hire people to support during peak times.
I absolutely recommend green apple to anyone who?s looking for assistance with their visa. So seamless careful experience. Rayene was my agent and she is the best. She held my hand throughout the process and dealt with all my questions patiently. I totally recommend them and Rayene for your visa services :)
I have applied for the Brazilian Visa with Green Apple, honestly great service. Polina was assisting me through the process, she made it very easy and straight forward. She is very prompt in her work and responses and she is very friendly and professional. Thank you very much for your help Polina.
Thank you very much Ms. Kate. I've got my 3 months visa going to Austria. This is my 1st time to go to schengen countries. Ms. Kate was very helpful and accomodating. Very professional and I highly recommended Green and Apple travel tourism especially Ms. Kate. She's the best! Thank you.
Got the B1/B2 visa today! Thank you so much to Ms. Kate for her support through the entire process, for her guidance on how to deal with the interview and document preparation, and for helping me with my countless of questions. Couldn't have made it without you. Would highly recommend Greenapple!
Google needs to update their review system for this company, 5 stars is too less for their service. From moment 1 that I contacted this company I was amazed by their customer centric approach. Ali, our agent, was helpful in every step. Also they were able to do things that I couldn't do myself in the embassy. Less than 5 days we received the Russian visa. And this without any action from our side. They came and pickup the passports, filled in all documents and when it was completed they brought the passports back to our home. Really Ali I can't say how much I want to thank you.
We profoundly appreciate the effort and time of Green Apple Travel & Tourism company have exerted in order for us to acquire a Turkish Visa, specifically to Ms. Kate she was very supportive and responsive on every query/concern we raised up which made the Visa processing smoothly and got the approval/visa stamp earlier than expected. Thank you very much Ms. Kate. Keep up the good work and be a motivation to others. Once again, thank you and God bless you more..????????
Visa Applications
Comprehensive visa application services for various countries.
Document Preparation
Expert guidance on preparing and submitting the required documents.
Application Tracking
Stay informed about the progress of your visa application.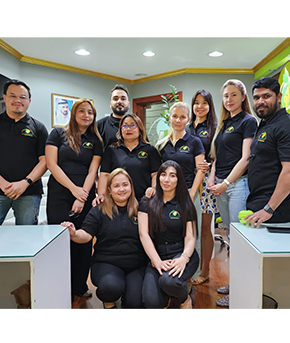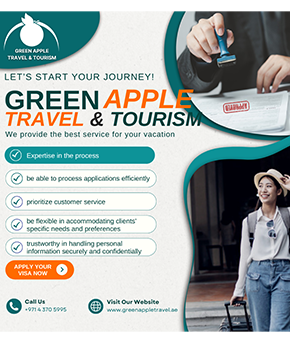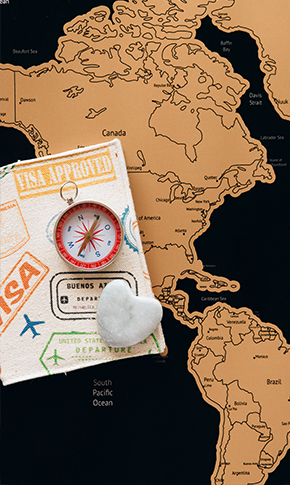 Why Choose Green Apple Tourism?
We Make Our customers happy by giving Best services.
Expertise
Our team of experienced professionals specializes in visa applications for countries around the globe.
Personalized Support
We guide you through the entire application process, ensuring a stress-free experience.
Competitive Pricing
We offer affordable rates and flexible payment options to cater to your needs.
Fast Processing
Our efficient processes ensure quick turnaround times for your visa application.
SEE HOW WE WORK
Experience seamless visa application services in Dubai.
Our expert team specializes in providing efficient and reliable visa application services to Dubai for a hassle-free travel experience. Trust us to handle all your visa needs with utmost professionalism and attention to detail.