Algeria visa application in Dubai, UAE
Obtain your Algeria Travel Entry Pass in Dubai without visiting the Embassy. Green Apple Travel and Tourism offers a speedy process with a high approval rate and even provides document pick-up and delivery right to your home.
Address:
301A API WORLD TOWER, Trade Center - Dubai
Algeria Travel Entry Pass Services in Dubai
Commence your Algerian travels with the expert support of Green Apple Travel and Tourism in Dubai. We offer fast and reliable travel entry pass services, ensuring a smooth and efficient visa application process. Our team is committed to facilitating your travel arrangements, providing guidance from initial consultation to final document approval. For a hassle-free experience in obtaining your Algeria visa, contact us at [email protected] or call 043333221.
Business Visa Requirements for Algeria
Copy of the first two pages of the passport (additional copies for UK citizens).
Valid UAE residence permit.
Three (03) recent passport sized photographs.
Signed application form (Fill electronically and print out).
Signed and stamped non-objection letter from the UAE based company clarifying the visit purpose.
UAE based company's trade license copy and members page if applicable.
Signed and stamped invitation from the Algerian company.
Copy of the current trade registration certificate of the Algerian company.
Tourist Visa Requirements for Algeria
Original passport valid for 6 months or more.
UAE residence visa, valid for 3 months or more.
No Objection Certificate (Addressed to Algerian Consulate General in Dubai).
Emirates ID copy.
3 passport size photos in white background (Photoshoot available in our office).
Invitation letter provided by the applicant.
Visa allows for a 30 days stay and 90 days validity.
Processing Time
The processing time for Algeria visa applications is 7-10 working days.
Choose Green Apple Travel and Tourism for a seamless and efficient approach to your Algeria visa needs. We ensure every detail is meticulously handled, allowing you to anticipate your journey to Algeria with peace of mind.
---
Customer Reviews
★ ★ ★ ★ ★
Based on
762
reviews
Green Apple Torusim highly recommended for Visa issuing purpose ?Special mention to Ms.Rayene for prompt action? any country you want visa they can assist you ..Cheers to the Team.
I had a great experience with the very professional consultant during my US visa application with your people in Dubai branch,Ms Brenda Was full of positivity energy and believe in the success with the application and that what happened, thanks a lot .
I wanted eight visas for Russia for me and other family . Miss Ruema took responsibility and did it in such a nice and easy way that was highly appreciable . This place is i think the best to approach for any visa and travel package . I highly recommend this place
Ruema is really good and professional she will make sure that you recieve the bisa as fast as possible. I would definitely recommend Green apple if you need a Russian visa.
Great service in regards to getting the visa on a timely manner. A bit on the pricier side, but sometimes you have to pay a premium for the service provided. Bit hard to locate the building as well as the office location, but the staffs are very helpful.
They make things easier for you, good processing speed, I got both Romanian visa, and Russian visa through them. special thanks to Kate which makes things clear and getting fast feedback.
Visa Applications
Comprehensive visa application services for various countries.
Document Preparation
Expert guidance on preparing and submitting the required documents.
Application Tracking
Stay informed about the progress of your visa application.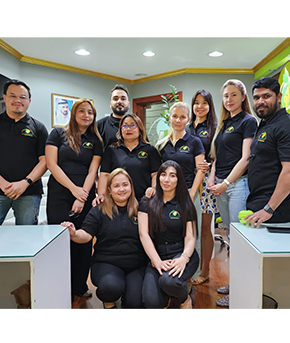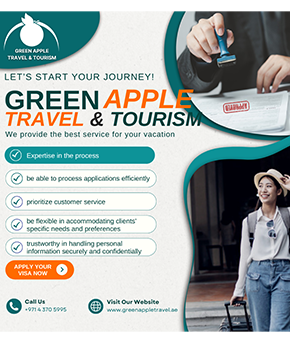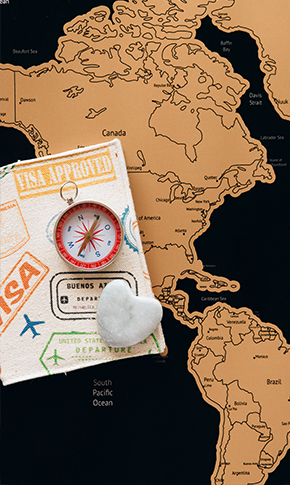 Why Choose Green Apple Tourism?
We Make Our customers happy by giving Best services.
Expertise
Our team of experienced professionals specializes in visa applications for countries around the globe.
Personalized Support
We guide you through the entire application process, ensuring a stress-free experience.
Competitive Pricing
We offer affordable rates and flexible payment options to cater to your needs.
Fast Processing
Our efficient processes ensure quick turnaround times for your visa application.
SEE HOW WE WORK
Experience seamless visa application services in Dubai.
Our expert team specializes in providing efficient and reliable visa application services to Dubai for a hassle-free travel experience. Trust us to handle all your visa needs with utmost professionalism and attention to detail.