UK visa application get appointment in Dubai
Apply for UK travel documents with Green Apple Travel and Tourism in Dubai. Just email the necessary documents; no original passport or office visit required.
Address:
301A API WORLD TOWER, Trade Center - Dubai
UK Travel Documentation Services in Dubai
Green Apple Travel and Tourism offers a streamlined and effortless process for obtaining your UK travel documentation in Dubai. Our commitment to convenience and speed ensures a smooth application process, meeting all requirements with precision and care. Whether you need a tourist or business visa, our experienced team in Dubai provides personalized and efficient service to ease your UK travel planning. Let us be your trusted partner in navigating the complexities of UK visa applications. For professional assistance, contact us at [email protected] or call 043333221.
Tourist Visa Requirements for the UK
Passports valid for six months or more.
UAE residence visa valid for 6 months or more.
Personal bank statement (last 6 months).
Photo with white background. (Photoshoot available in our office.)
NOC letter from your employer or proof of business ownership.
For business owners/partners, a trade license copy with your name is required.
Additional Requirements:
For couples traveling together, provide original and copy of the marriage certificate with English translation.
For those traveling with children under 12 years old, provide original and copy of the birth certificate with English translation.
Processing Time and Visa Type for UK Visa
Processing options include a 5-day process and a 15-day process. The visa type offered is the UK Multiple Entry visa.
Our Service for UK Visa
Expert advice on documentation needed for UK visa application.
Assistance with booking tickets and hotels.
Help with filling out the online visa application and scheduling appointments.
Simple interview tips and frequently asked questions based on your selected holiday package from us.
Sorting your application and preparing it for the appointment.
Green Apple Travel and Tourism is dedicated to ensuring your UK visa application is hassle-free and efficient, allowing you to look forward to your UK adventure with excitement and peace of mind.
---
Customer Reviews
★ ★ ★ ★ ★
Based on
773
reviews
I had applied for Spain visa first and Kate she assisted me very well then in the day for my appointment I had an issue with my bank statement so I missed the appointment then Kate helped me and booked another appointment for Greece and prepare all my documents without asking me to pay anything else and just today I got my passport with the visa on it .. thanks a lot Kate
I would like to commend Ms. Ruema for assisting us in our Russian visa. The service is incomparable. We got our passport on time. Highly recommended. More power to staff and management.
i have applied for Russian Visa with Green Apple, the process was quick as promised, affordable prices and professional stuff (especially Liza) which i things she is Russian she was very kind and helpful. advisable to process your documents here.
We ask for assistance on applying US visa. It was great experience... Kate Bustarde was the staff who assisted us and she was very good and all the details was very accurate ...Thank you so much Green Apple We got the visa.....highly recommended
I'm very happy to visit Green apple ?? travels, I really thanks to all Green apple ?? travels team Especially Ms, Brenda the one she handled my schengen visa for Finland ???? I got my visa I wish to come again to your office thank and your best regards. ????????
We applied for VIP Schengen visa and US visa renewal via Green Apple. All transactions were processed in a very timely manner. Their staff were professional, respectful and knowledgebable. We highly recommend this agency especially for VIP transactions or any corporate requests. Big shout out for Ms. Haydee who assisted us end to end. Five star rating..
One Of the Best Company and Also One of the Best Experience with this Company . Deal With Ms Ruema . Much Professtional and coooperative and alwasys avaible for customer call and follow ups. once Thank you so much for your effort for Helping and assisting us for Applying Russain Visa . and Also We have reced our passport back as per company confirmation. thank once again Ms Ruema. i have option for 5 star But my experience with company and thr represesatative Ms Ruema deserve more than that. so i can give by myself*************************************************************************************************************************************************************************************************************************************
I have used services of the agency multiple times for processing Germany Visa and every time our experience was outstanding. Green Apple (Miss Brenda) travel consultant team is always helpful and very professional in Dubai UAE. Thanks & Regards Zahid Mehmood Managing Director Golde Perfect Safety Wear Tradin llc
I went to Green Apple for Turkey Visa. Brenda who is an employee there, she helped me with everything. I got my Visa in a week. Company is cheaper as compared to others. If you go there do contact Brenda, she is fast and responsive.
Thank your very much to Tanya for efficient and prompr service! I'm their regular customer and got already a lot of Russian visas in time and with high level of service! I would definitely recommend.
Thank you Kate!! You have been really helpful and supportive in getting the Sweden Visit Visa for me .The assistance and support you personally gave was remarkable. Thanks for making things happen!! Merry Christmas.
green aple appears the experience and fast in my visa aplecation to Turkey , am very thankfull to this travel agent , specialy Brenda who make it very easy by her experience way in doing such as these matters . am gladd to deal with them .
We Got the Visa for United States Of America through Green Apple Travels and tourism, Thank You. Their Service was Excellent and and the fees is reasonable. Thank You Kate for a job well done..... Avinash Joseph
Very straight-forward process and fast work. Kate did a wonderful job at making everything clear during every step of the way for a multiple entry Schengen.
Thanks, Green Apple Travel it was a fast service. Many Thanks to Ms. Kate who gave us 100% support for our visa in Bahrain.
Kate was a great help in getting my schengen visa! Great service, very professional, and was there to assist me through the whole process. Would recommend to all friends and family!
I really appreciate the great job you do! Everything was arranged for me with the best travel agent- Kate! I will have a marvelous time in Istanbul! xx
Visa Applications
Comprehensive visa application services for various countries.
Document Preparation
Expert guidance on preparing and submitting the required documents.
Application Tracking
Stay informed about the progress of your visa application.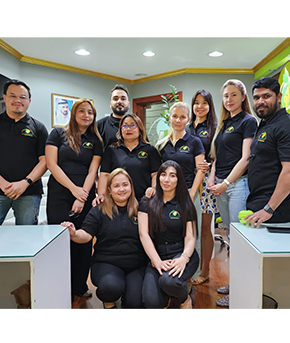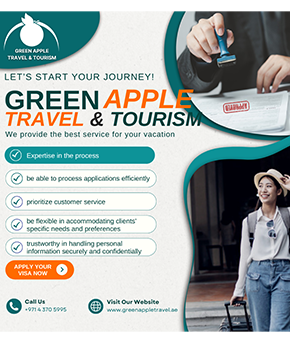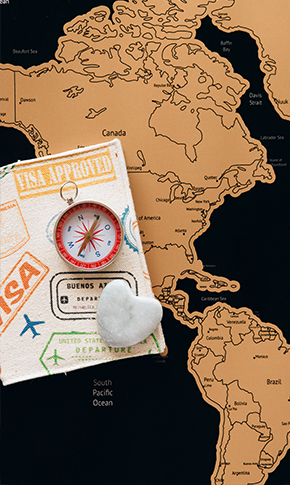 Why Choose Green Apple Tourism?
We Make Our customers happy by giving Best services.
Expertise
Our team of experienced professionals specializes in visa applications for countries around the globe.
Personalized Support
We guide you through the entire application process, ensuring a stress-free experience.
Competitive Pricing
We offer affordable rates and flexible payment options to cater to your needs.
Fast Processing
Our efficient processes ensure quick turnaround times for your visa application.
SEE HOW WE WORK
Experience seamless visa application services in Dubai.
Our expert team specializes in providing efficient and reliable visa application services to Dubai for a hassle-free travel experience. Trust us to handle all your visa needs with utmost professionalism and attention to detail.