India Visa Application in Dubai - Easy & Hassle-Free with Green Apple Travel & Tourism
Secure your India visitation paperwork in Dubai through Green Apple Travel & Tourism. Simply send over the necessary documents via email, without the hassle of providing your original passport or making a trip to our office
Address:
301A API WORLD TOWER, Trade Center - Dubai
FAQ
Frequently asked questions
How much Indian Dubai visa cost?

The cost for an Indian visa varies depending on the type and duration of visa. Contact the Indian Consulate in Dubai or use our visa services for detailed fee information.
Is India visa free country in Dubai?

India is not a visa-free country for Dubai nationals; however, eligible UAE nationals can apply for an e-Visa online.
India Visa Application in Dubai with Green Apple Travel & Tourism
Simplify your India visitation paperwork process in Dubai with the expert assistance of Green Apple Travel & Tourism. Our team is committed to providing an easy and hassle-free service for your travel needs.
We manage all necessary documents with efficiency and accuracy, ensuring compliance with all criteria for travel to India.
E-Visa application assistance
Copy of passport valid for six months or more.
UAE residence visa valid for 6 months or more.
One photo (2×2 size) with a white background.
Emirates ID copy.
With Green Apple Travel & Tourism, you can embark on your journey to India with peace of mind, knowing that your visitation paperwork is handled by a reliable and efficient team.
---
Customer Reviews
★ ★ ★ ★ ★
Based on
780
reviews
Special thanks to Mr. Sajjad from Green Apple Travel & Tourism, I was completely impressed with his professionalism efficiency , punctuality and customer services...
This is my third time I applied visa with them They have great service and very helpful & nice staff specially Ms Ruema????
Thanks a lot brother sajjad you are such a great person I have ever met in green apple travel agency your assistance was really excellent i got my Japan visit visa by applying you thanks Once again green apple travel agency
I want to thank Green Apple consultancy for helping us and guiding us in the right direction for US visa I would like to personally thank the support provided by Venessa who continuously kept in touch and provided feedback which helped us get the Visa Thank you so much
Excellent Service. I got my Spain Visa within 3 Days . Thank you Dima for you kind assistance and support .
Great service by Deema , I got an appointment with the Spanish embassy in Abu Dhabi in 2 days and received my visa after a week.
Ms. Dima has been extremely helpful and very supportive. She did my entire process hassle free.
Excellent support online from Tosha. They have specific documents to submit, which i provided them, made the payment through their online system and within 7-10 days got a positive result. Highly recommended!!!
Rayene Gatt is an outstanding travel consultant, she helped me with both Saudi Business Visa and Algeria Visa...every cost competitive and excellent customer service
Great service. Staffs are very helpful and knowledgeable of document processing. Many thanks to Mr. Sajjad for his advise for our visa requirement to Ireland.
Best & Top VISA Services Provider in UAE 100% Satisfied by the Greenapple Services. VANESSA Ma`am Work is really admirable. Very Good Job VANESSA Ma`am & Thanks For Top Class Service.
Using the professional services of Rayane from last 1 year and got Turkey , Brazil, hong Kong, Korea and Indonesia visa . She is dedicated to his work and have up to date knowledge of current visa requirements.
Just writing to thank green apple travel and tourism, specially Rayane who assisted me till extreme to obtain my UK visa and really highly recommended to approach her for any one willing to apply for any visa. Thanks sincerely Bahij & Madlen Matar.
Dima was very helpful. Provided the right guidance and with her help we received 1 year shengen visa. Will definitely use their services again.
Thanks to Mr Syed Sajjad (5star for his efforts) for helping out us to attain schengen visa..! 5 star only for him. Good Job Sir ? A big Fat No for Mr. ALI in this company who is the most unprofessional and misbehaved person on earth. He called me and misbehaved with me although he was not even my consultant. He tried to interfare between me and My consultant out of no where. If Mr Sajjad is not there do not fall for any other agent, I strongly recommend from my experience. Make sure you pay them in there office as it takes alot of time for their lazy account department to reflect and verify your bank transfer..! Big shout out to Mr Sajjad for his time, patience and efforts..!!?
This is the second time I have used Green Apple Travel services. Great costumer service, efficient working and deliver as per time expectations. Ruema was particularly supportive. Very good.
Would like to repit my opinion about this company in eanglish as well. I am very thankful to this company , specially Mr.Sajjad how quickly and efficiently service, understanding customer needs. Most important no any headaches, just thrue the phone you can finish everything and get your passport with visa in your hand. Thank you Sajjad.
My application process for Indonesia and Turkey visit visa has been excellent with Green Apple Travel and Tourism. Rayene is extremely efficient and provided outstanding service to us.
I work With Kate for the last 2 years. She?s made my life so much easier with regards to visa and traveling. Highly recommend.
I was very pleased with the service Green Apple has provided at processing my Bali Visa. The procedure was quick efficient and professional. I had the pleasure of working with Rayan throught the process. Thank you for the service
Green Apple was of great help specially Ms. Polina. She was of great help and finished the work promptly. The service was a bit pricey but it?s worth the fast service they provided.
Regarding Thailand visit visa i meet Mrs Ruema And Mr Sajid sir who is such a lovely people with a very positive vibe and patience with excellent customer care and service. They processed my visa quick and hassel free with minimum required documents. They has high experience in her job field. Again,THANK YOU RUEMA!
Wonderful experience to get their services. Mr.Ali provided the best service possible and received my Indonesian visa without any problem. I have heard they never disappoint and they proved it for me.
I recently had the pleasure of using Green Apple service and I couldn?t be more pleased with the experience. From start to finish their team was professional and friendly. . I would like to thank Green Apple team member Rayan for her friendly and professional approach. Will certainly use their service in future. Thank you for a job well done.
Visa Applications
Comprehensive visa application services for various countries.
Document Preparation
Expert guidance on preparing and submitting the required documents.
Application Tracking
Stay informed about the progress of your visa application.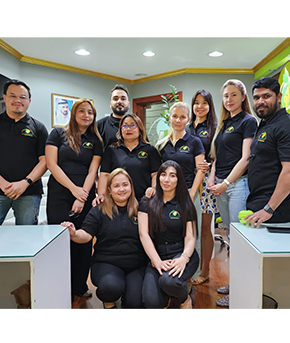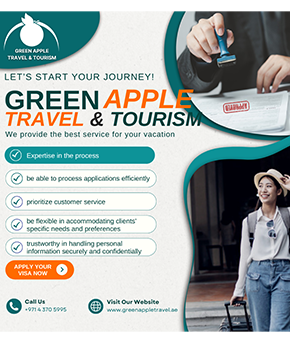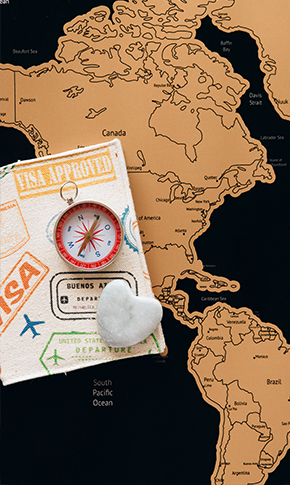 Why Choose Green Apple Tourism?
We Make Our customers happy by giving Best services.
Expertise
Our team of experienced professionals specializes in visa applications for countries around the globe.
Personalized Support
We guide you through the entire application process, ensuring a stress-free experience.
Competitive Pricing
We offer affordable rates and flexible payment options to cater to your needs.
Fast Processing
Our efficient processes ensure quick turnaround times for your visa application.
SEE HOW WE WORK
Experience seamless visa application services in Dubai.
Our expert team specializes in providing efficient and reliable visa application services to Dubai for a hassle-free travel experience. Trust us to handle all your visa needs with utmost professionalism and attention to detail.