Quick and Reliable Malaysia Visa Processing in Dubai - Green Apple Travel & Tourism
Secure your Malaysia visa in Dubai quickly and reliably through Green Apple Travel and Tourism. Enjoy a smooth appointment process with an impressively high approval rate
Address:
301A API WORLD TOWER, Trade Center - Dubai
FAQ
Frequently asked questions
How can I apply for a Malaysia visa from Dubai?

You can apply for a Malaysia visa at the Malaysian Consulate in Dubai or through our agency, where we can help you with the entire visa application process.
What is the cost of a Malaysia visa?

The visa fee for Malaysia varies based on visa type and duration of stay. Contact our agency or the Malaysian Consulate in Dubai for the most accurate information.
Do I need a visa for a short visit to Malaysia?

Yes, most travelers need a visa for Malaysia. However, there are exceptions for certain nationalities and for short-term social visits. Our agency can provide you with the latest visa exemption information.
How long does it take to get a Malaysia visa in Dubai?

The processing time can vary, but typically it may take from 2 days to a week. Our agency can expedite the process for an additional fee.
Quick and Reliable Malaysia Visa Processing in Dubai with Green Apple Travel & Tourism
Planning a trip to Malaysia from Dubai? Rely on Green Apple Travel & Tourism for quick and reliable visa processing. Our team is dedicated to streamlining your application process, ensuring prompt and accurate approvals.
We offer a comprehensive service covering all aspects of the Malaysia visa application, from initial assessment to final approval.
Tourist Visa Requirements for Malaysia
Passport copy valid for at least 6 months.
NOC letter.
Copy of UAE residence visa valid for at least 6 months.
3 months original bank statement.
1 Passport size photo with white background.
Entrust your Malaysia visa application to Green Apple Travel & Tourism and experience a hassle-free process. Our expertise and commitment to service excellence make us the ideal choice for your travel needs.
---
Customer Reviews
★ ★ ★ ★ ★
Based on
766
reviews
The simplest and easiest way to apply the visa to Thy land Mr Sajad was very helpful
I Got the Spain visa Quick and efficient visa service from Ruema. Thank you for your help ??
I'm Rahim Mohammad. I'm interest tourists visa Japan. I'm live in Singapore. If you can help
Very good service, Rayane Gatt was very helpful and assisted me in Japan visa
Hi sir, I am Arafat chowdhury from Bangladesh right now I am working in Abu Dhabi Oil and gas company (NPCC)
Really good service by Mr. Sajjad And helpful to get me Russian visa In quick time Thank you Mr. Sajjad
Great service by Katy in helping me obtain a Austrian visa on a very short notice. Was extremely helpful and proactive throughout the process. Would love to go to her for future visa applications
Kate has been a wonderful help to us while applying for the Schengen visa. Highly recommend Green Apple for all the visa purposes and a big shoutout to Kate again
It's my second time with Green Apple and Im really grateful to found them. Ms. Kate is super approachable, reliable and I love that it can be online transaction so i dont need to go in their office! Got a multiple entry Schengen Visa in just 4 days. Wednesday we have submitted all the required documents in the checklist at VFS and got my passport on Saturday. I didnt have time to arrange my documents so i seek help from them and they didnt fail me.
Brenda has been very accommodating, helpful, and kind since day one. I have been to other travel agencies before, but this is the first time I can say the service has been extraordinarily excellent, and I'm so happy. She has been guiding me since day one, and that lead me to the success of getting my visa's approval. Brenda is one of a kind! Thank you very much, Mary
Visa Applications
Comprehensive visa application services for various countries.
Document Preparation
Expert guidance on preparing and submitting the required documents.
Application Tracking
Stay informed about the progress of your visa application.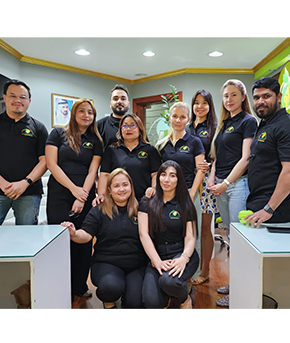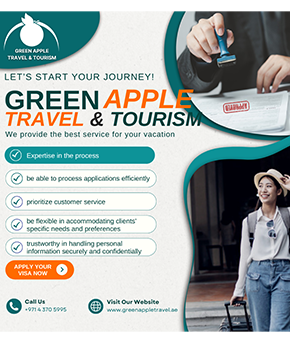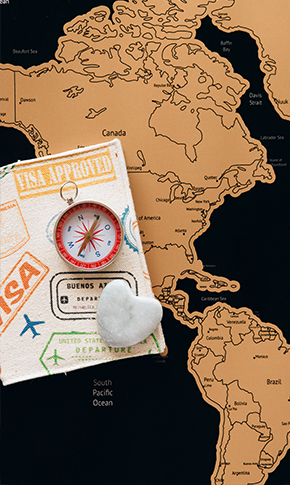 Why Choose Green Apple Tourism?
We Make Our customers happy by giving Best services.
Expertise
Our team of experienced professionals specializes in visa applications for countries around the globe.
Personalized Support
We guide you through the entire application process, ensuring a stress-free experience.
Competitive Pricing
We offer affordable rates and flexible payment options to cater to your needs.
Fast Processing
Our efficient processes ensure quick turnaround times for your visa application.
SEE HOW WE WORK
Experience seamless visa application services in Dubai.
Our expert team specializes in providing efficient and reliable visa application services to Dubai for a hassle-free travel experience. Trust us to handle all your visa needs with utmost professionalism and attention to detail.