Brazil Visa Application in Dubai - Secure & Reliable with Green Apple Travel & Tourism
Secure your Brazil application in Dubai through Green Apple Travel & Tourism
Address:
301A API WORLD TOWER, Trade Center - Dubai
FAQ
Frequently asked questions
How can I get Brazilian visa from Dubai?

Brazilian visas can be applied for at the Consulate General of Brazil in Dubai or through trusted travel agencies, which can manage the application process efficiently.
Can I get Brazil visa online?

Some Brazilian visas can be applied for online through the eVisa system, depending on the purpose of travel and the traveler's nationality.
Is Brazil visa easy to get?

Obtaining a Brazilian visa involves several steps and requirements, but with the right preparation and assistance, the process can be straightforward.
Brazil Visa Application in Dubai - Secure & Reliable with Green Apple Travel & Tourism
Experience a secure and reliable process for your Brazil visa application in Dubai with Green Apple Travel & Tourism.
Tourist Visa Requirements
Original passport (valid for 6+ months).
UAE residence visa (valid for 3+ months).
No Objection Certificate (Template available).
Original bank statement for the last 3 months with bank stamp.
Emirates ID copy.
Recent 2 passport-size photos in white background.
Brazil Tourist Visa Details
The Brazil Tourist visa allows a 30-day stay and has 90 days of validity, subject to Consulate approval. The processing time is typically 5-7 working days.
Business Visa Requirements
Similar requirements as the Tourist visa.
Brazil Business Visa Details
The Brazil Business visa also offers a 30-day stay with 90 days of validity, depending on Consulate approval. The processing time is 5-7 working days.
---
Customer Reviews
★ ★ ★ ★ ★
Based on
764
reviews
I was applying for Schengen Visa & Sajjad was really helpful and supported me step by step , I really appreciate his dedication & professionalism .
Excellent and professional visa and travel Services .... ????They are really on time and proceed everything fast. I should state that Mr amin ullah is a gem ?? he was very attentive, professional and great in terms of customer care
I would like to express my special gratitude to Mr.Ali Hallak, for the quick and exceptional service for my visa, I wholeheartedly recommend Green Apple Travel and Tourism to anyone seeking not just travel services but also stress-free visa assistance.
Dima provided excellent service in handling the visa process. Her professionalism and efficiency were greatly appreciated. Thank you, Dima, for your help and support throughout the process.
It was a great experience with Green Apple Travel And Tourism Specially Mrs Dima who help me for getting the Russia visa It was a quiet hassle free process.Thankyou Dima For your support and coordination will contact you in future soon for any further visa assistances
Although I am living in Abu Dhabi, I like to deal with Green Apple and I am regular customer especially for applying Visas. However, my last experience was not matching my expectations. I am a customer and Agent should understand that. The ignorance of my calls/what?s App massages and ordering documents roughly is not acceptable to me. People should know how to use the magic words and be more friendly.
Overall, my experience with Mr Syed Sajjad the Visa Sales Representative was outstanding. His knowledge, professionalism, and commitment to customer service made the entire process seamless and enjoyable. I would highly recommend their services to anyone in need of Visa products or assistance.
The agent Dina at Green Apple tourism.., was very good / humble and was fast tracking my application process with clear instructions and she provided precise details guided me all the way from beginning till end .. for my visa stamping services to Algeria . To top it all .. she was following after my submission till I get my visa stamped .. hats off yo her for her excellent customer care and service . Thanks Dima .. Keep up your good work .. Ram.
Visa Applications
Comprehensive visa application services for various countries.
Document Preparation
Expert guidance on preparing and submitting the required documents.
Application Tracking
Stay informed about the progress of your visa application.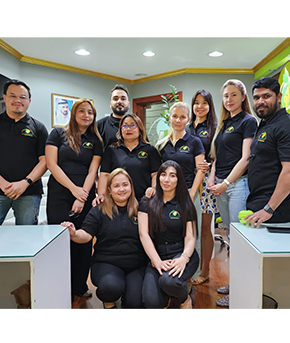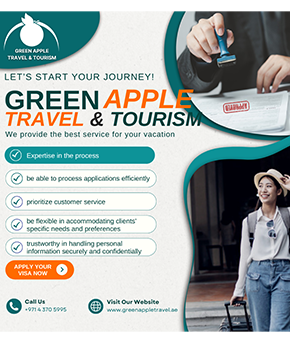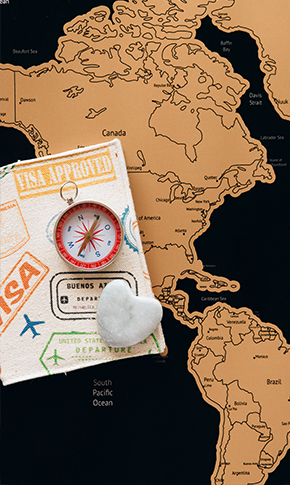 Why Choose Green Apple Tourism?
We Make Our customers happy by giving Best services.
Expertise
Our team of experienced professionals specializes in visa applications for countries around the globe.
Personalized Support
We guide you through the entire application process, ensuring a stress-free experience.
Competitive Pricing
We offer affordable rates and flexible payment options to cater to your needs.
Fast Processing
Our efficient processes ensure quick turnaround times for your visa application.
SEE HOW WE WORK
Experience seamless visa application services in Dubai.
Our expert team specializes in providing efficient and reliable visa application services to Dubai for a hassle-free travel experience. Trust us to handle all your visa needs with utmost professionalism and attention to detail.