Ukraine Journey Authorization in Dubai - Convenient Document Service with Green Apple Travel & Tourism
Obtain your Ukraine journey authorization in Dubai with Green Apple Travel and Tourism. Enjoy the convenience of door-to-door document pickup and delivery.
Address:
301A API WORLD TOWER, Trade Center - Dubai
FAQ
Frequently asked questions
How can I get Ukraine visa from Dubai?

You can apply for a Ukraine visa in Dubai through Green Apple Travel & Tourism. We'll need your valid passport, completed application form, recent photographs, and other documents depending on the type of visa. We can assist you with the entire process, from document preparation to submission.
Do Ukrainian citizens need visa to Dubai?

Ukrainian citizens can obtain a visa on arrival in Dubai for a stay of up to 30 days. For longer stays or other visa types, applications can be made prior to travel. Green Apple Travel & Tourism can provide further guidance and services if a different type of visa is required.
How much is visa from Ukraine to Dubai?

A visa from Ukraine to Dubai can cost varying amounts depending on the type of visa required. For current pricing and visa options, please contact Green Apple Travel & Tourism, and we will provide you with all the necessary details for your trip.
Can I apply Ukraine visa online?

Yes, applicants can apply for certain types of Ukraine visas online. For assistance with the online application process or to apply for other visa categories, Green Apple Travel & Tourism is here to help with expert advice and professional services.
Ukraine Journey Authorization Services in Dubai
Embark on your Ukrainian adventure with ease through Green Apple Travel & Tourism's comprehensive journey authorization services in Dubai. Our team is committed to simplifying the authorization process, handling all the necessary documentation to ensure a hassle-free experience. Rely on our expertise for a smooth and timely journey to Ukraine. For detailed assistance, contact us at [email protected] or call 043333221.
Tourist Visa Requirements for Ukraine
Valid Passport with a minimum of 6 months validity.
Valid UAE residence with a minimum of 3 months validity.
Two Passport size photos with white background. (Photoshoot available in our office.)
NOC from sponsor.
3 Months bank statement.
Visa Validity and Processing Time
The Ukraine Tourist visa allows for a 30-day stay (Single entry) and is stamped for specific dates requested in the application. The processing time is approximately 2-3 weeks.
At Green Apple Travel & Tourism, we are well-versed in Ukraine's travel regulations and dedicated to offering personalized, seamless service. Let us take care of the complexities of your travel authorization, allowing you to look forward to your journey with peace of mind.
---
Customer Reviews
★ ★ ★ ★ ★
Based on
760
reviews
I had an incredible experience with Green Apple Travel & Tourism when I applied for a tourist visa to Japan. From start to finish, their support was exceptional, and I can't thank them enough. A special shoutout to Dima, who went above and beyond to assist me throughout the application process. Her expertise and dedication were truly remarkable. She patiently guided me through all the necessary steps, answered my questions promptly, and ensured that my application was flawless. Thanks to Dima and the entire team, I received my tourist visa hassle-free. I highly recommend this agency to anyone in need of visa services or travel assistance. Their professionalism and personalized care make all the difference!
I would like to express my gratitude to Ms Kate, for the exceptional service she provided. Your attention to detail,promptness & commitment is above & beyond! I will not hesitate to recommend your services, to my family, friends which I did already????
I recently had the pleasure of using Green Apple service and I couldn?t be more pleased with the experience. From start to finish their team was professional and friendly. . I would like to thank Green Apple team member Rayan for her friendly and professional approach. Will certainly use their service in future. Thank you for a job well done.
When it comes to visa assistance and travel information, I highly recommend Green Apple Travel & Tourism. Never have I experienced any difficulty when using their service. The visa process from start to end was handled exceptionally. A shout out to Ms. Kate Bustarde for her outstanding service and professionalism. Thank you for making our travels possible!
Visa Applications
Comprehensive visa application services for various countries.
Document Preparation
Expert guidance on preparing and submitting the required documents.
Application Tracking
Stay informed about the progress of your visa application.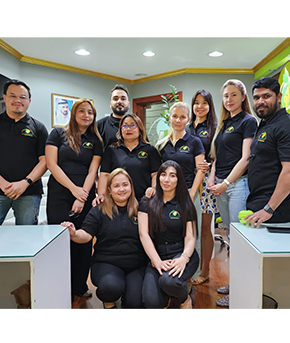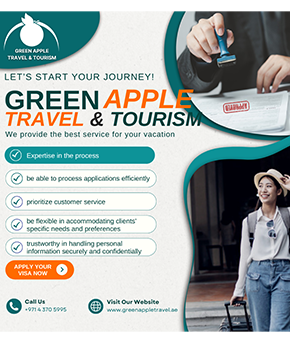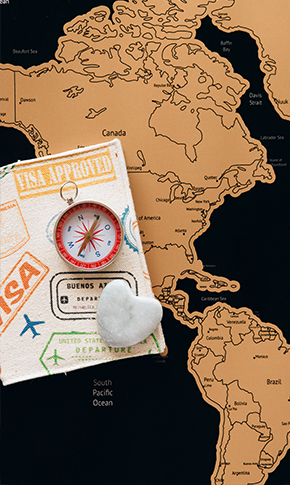 Why Choose Green Apple Tourism?
We Make Our customers happy by giving Best services.
Expertise
Our team of experienced professionals specializes in visa applications for countries around the globe.
Personalized Support
We guide you through the entire application process, ensuring a stress-free experience.
Competitive Pricing
We offer affordable rates and flexible payment options to cater to your needs.
Fast Processing
Our efficient processes ensure quick turnaround times for your visa application.
SEE HOW WE WORK
Experience seamless visa application services in Dubai.
Our expert team specializes in providing efficient and reliable visa application services to Dubai for a hassle-free travel experience. Trust us to handle all your visa needs with utmost professionalism and attention to detail.