USA Visa Application in Dubai - Green Apple Travel & Tourism, No Original Passport Required
Obtain your USA journey entry permit paperwork in Dubai through Green Apple Travel & Tourism. Send over the necessary documents via email, and avoid submitting your original passport or visiting our office.
Address:
301A API WORLD TOWER, Trade Center - Dubai
971547103996
FAQ
Frequently asked questions
How much bank balance is required for US tourist visa?

The required bank balance for a US tourist visa is not officially specified but should reflect your ability to support yourself financially during your stay. Contact Green Apple Travel & Tourism for advice on financial documents and sufficient funds for your travel plans.
What is the waiting time for US visa in Dubai?

The waiting time for a US visa in Dubai varies based on the visa type and current processing times. For the most recent waiting periods, Green Apple Travel & Tourism can provide the latest updates and help expedite your application process when possible.
How much is U.S. visa from Dubai?

The cost of a US visa from Dubai depends on the visa category. Our team at Green Apple Travel & Tourism can give you a detailed breakdown of the costs involved, including service fees and any additional charges.
How can I get USA visa from Dubai?

To get a USA visa from Dubai, you can consult with Green Apple Travel & Tourism. We guide you through the entire application process, including form filling, document preparation, and appointment scheduling at the US consulate.
USA Entry Permit Assistance in Dubai
Navigating the complex and time-consuming process of obtaining a USA entry permit is made easy with Green Apple Travel & Tourism. As a premier service provider in Dubai, we specialize in streamlining the visa application process for travelers in the region.
Key Features
No original passport required for the application process.
Expert handling of all documentation and details.
Focus on customer satisfaction and experience.
Whether it's for business, pleasure, or other travel reasons, rely on Green Apple Travel & Tourism for a seamless USA entry permit application experience.
Required Documents for USA Visa
Copy of passport (valid for 6+ months).
Original bank statement for the last 6 months with bank stamp.
NOC from company (required during embassy interview).
Recent 2 passport-size photos in white background (Photoshoot available in our office).
Additional Documents
Additional documents may be required to establish eligibility, such as evidence of travel plans, intent to depart the US after the trip, and financial ability to cover trip costs. Green Apple Travel & Tourism can assist with preparing these documents.
Visa Type
The primary visa type processed is the Nonimmigrant visa.
Our Service for USA Visa Documentation
Comprehensive visa application consultancy.
Assistance with DS-160 form completion and appointment scheduling.
Nonrefundable visa application fee processing.
---
Customer Reviews
★ ★ ★ ★ ★
Based on
761
reviews
Got Australia and Canada visa in this agency. Thank you Kate Bustarde for helping us to get the visa done. Keep up the Good Work!
I wanted a Umrah visa to KSA and Ms. Dima assisted me really well. The visa came out in 2 days while normally it takes up to 7-10 days. Thank you so much Ms. Dima for your amazing help and support.
Thank you so much to Ms Kate of Green Apple Travel& Tourism for the professional service she rendered to get the visa.There was a time when I was getting impatient but she was always very calm and confident and gave a prompt response whenever I called her Thank you again Kate and Green Apple Travel & Tourism
Id like to commend Kate on helping us with all the requirements needed whenever we apply for a Schengen visa. She is very helpful and very responsive to all my questions and inquiries. I have been recommending this agency and kate herself to my friends and family who wants to apply as well, so they can have a smooth visa processing.
I had great experience with Green apple travel ! They helped me with Schengen visa for Greece. Amazing helpful people. Especially Ms.Vanessa was amazing and flexible with all my requests. Highly recommend for all your travel needs
Visa Applications
Comprehensive visa application services for various countries.
Document Preparation
Expert guidance on preparing and submitting the required documents.
Application Tracking
Stay informed about the progress of your visa application.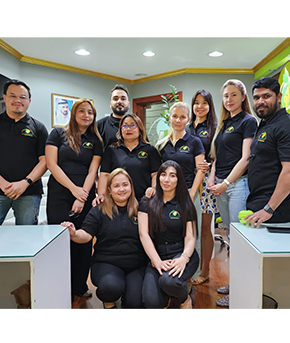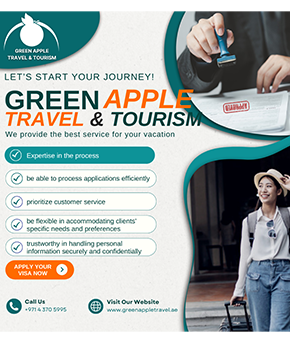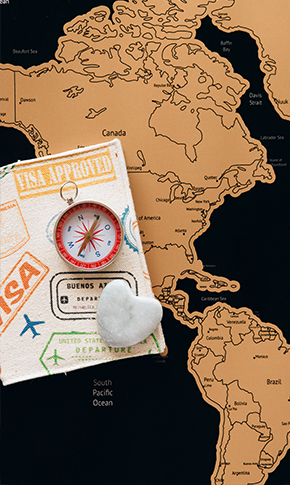 Why Choose Green Apple Tourism?
We Make Our customers happy by giving Best services.
Expertise
Our team of experienced professionals specializes in visa applications for countries around the globe.
Personalized Support
We guide you through the entire application process, ensuring a stress-free experience.
Competitive Pricing
We offer affordable rates and flexible payment options to cater to your needs.
Fast Processing
Our efficient processes ensure quick turnaround times for your visa application.
SEE HOW WE WORK
Experience seamless visa application services in Dubai.
Our expert team specializes in providing efficient and reliable visa application services to Dubai for a hassle-free travel experience. Trust us to handle all your visa needs with utmost professionalism and attention to detail.