Effortless Japan Visa in Dubai - Green Apple Travel & Tourism
Obtain your Japan Visa in Dubai through Green Apple Travel & Tourism. Skip the interview process and simply send the necessary documents via email. No original passport or in-person office visit needed
Address:
301A API WORLD TOWER, Trade Center - Dubai
FAQ
Frequently asked questions
Can I get Japan visa in Dubai?

To get a visa for Japan, you can apply at the Japanese embassy or consulate in Dubai or employ our visa service for a hassle-free application.
How much is the visa fee for Japan from Dubai?

The visa fee for Japan from Dubai will depend on the visa category and duration. For accurate fee information, consult the Japanese Consulate or our agency.
Can I go to Japan with UAE residence visa?

If you hold a UAE residence visa, you will still need a Japanese visa to enter Japan. Our agency can help you with the necessary procedures and documentation.
How much is Japan visa fee?

The Japanese visa fee is subject to change and depends on the type of visa. You can find the most current fees by contacting the Japanese embassy or consulate or by inquiring with our visa assistance services.
Effortless Japan Travel Documentation in Dubai with Green Apple Travel & Tourism
Obtain your Japan travel documentation effortlessly in Dubai through Green Apple Travel & Tourism. Our team is committed to providing a hassle-free visa application experience, ensuring all your needs are met with efficiency and reliability.
We handle both tourist and business visas, leveraging our strong industry relationships and in-depth knowledge for a high success rate.
Tourist Visa Requirements
Passport copy valid for six months or more.
UAE residence visa valid for 3 months or more.
Bank statement for the last 3 months.
NOC from your company or sponsor (Template available).
Emirates ID Copy.
Passport size photo with white background.
Japan Tourist Visa Details
The Japan Tourist Visa allows for a 15-day stay and has 90 days of validity, subject to Consulate approval. The processing time is approximately 3 to 4 weeks.
Trust in Green Apple Travel & Tourism to make your Japan travel documentation process in Dubai smooth and straightforward. Start your Japan adventure with confidence and peace of mind.
---
Customer Reviews
★ ★ ★ ★ ★
Based on
780
reviews
The lady was very good in assisting me get my visa
Love to you Sajjad bhai you done my Russian visa thank you so much ??
Staff was very cooperative and helped us from start to finish for the visa renewal process ..
Very fast service for Thai visa. Ms. Ruema is very accommodative.
I would like to thank Ms. Kate for helping me with Malta (2023) and Spain(2019) visa applications. She is very efficient and helpful and answered my loooong list of questions patiently. If you want peace of mind and a visa without hassle, I strongly recommend you to seek out this amazing team.
Sajjid is an awesome agent. Very friendly and efficient. Highly recommended!
Dima she was absolutely helpful. I got my visa in two weeks with her help
I had a great experience with Green Travel. They got me a Schengen visa for the first time and everything went very well
Dima is very quick service provider with excellent skills we r vety happy with her services in green apple
It was amazing experience, specially thanks to Mr. Sajiad who helped me a lot in this process, and I got my visa in very short time
I got my thailand visa just in 3 days. Very good service. Thanks soo much Sajjad Bhai
Thanks to Ms rayene for assisting me for schengen visa , i got spain visa in 4 days ,she is the best , i recommend Rayene she assisted me step by step , thank you again
Dima is One of the best travel agent I?ve talked. She?s very professional and loyal to his commitments.
I applied for Thai visa with MR Syed sajjad and he give me excellent service. I got it in three days.
All I had to do is send the documents on WhatsApp and make online payment and the visa to Indonesia was ready and sent to me. Very easily thank you Ruema for your help
They had helped get my Singapore Visa so quickly! Ms.Ruema was very professional and always answered my questions all the time.
very serious agency ! Thanks to Dima for her professionalism and her serious ! Thanks to her we got our schengen visa very quickly
Thank to Polina for amazing service for getting my Russian visa and Kazakhstan! Very fast process!
I would highly recommend Green Apply especially Vanessa who has been very attentive and patient to assist me and my company with all the visa applications! Fast Service Guarantee!
I am very happy and glad to get tour visa Of Turkey via green apple travel & tourism. *I am sincerely thankful to MS. RAYENE ma'am who has helped me the most in getting the visa*
I was dealt by Ali & Rayan and they have provided excellent services and assistance time to time which make my application successful for spain visa through BLS. From appointment till submission of documents team were very supportive and i received my visa within 10 days only, Hats off to you guys as this was my second experience with them and they were above my expectations. Well appreciated and Thank you team for all support. Highly recommended for best Schengen visa services
Great service again. Rayene managed to organize me a Moroccan visa in no time. It?s not easy for South Africans to get but she did! Thank you ??
Regarding indonesia visit visa i met mrs Ruema who is such a lovely lady with a very positive vibe and patience with excellent customer care and service. She processed my family visa quick and hassel free with minimum required documents. She has high experience in her job field. Again,THANK YOU RUEMA!
I have approached Green Apple travel on a friends recommendation. My file was handled by Kate who has exceptional patience and is a bundle of energy. i have fired so many questions and she has answered each and everyone of them. Today i submitted all papers at embassy and they didnt ask me for any extra paper. Everything was in order. Thank you kate Bustarde for the lovely service. Green Apple should see that they never let go of these type of brilliant employees.
Visa Applications
Comprehensive visa application services for various countries.
Document Preparation
Expert guidance on preparing and submitting the required documents.
Application Tracking
Stay informed about the progress of your visa application.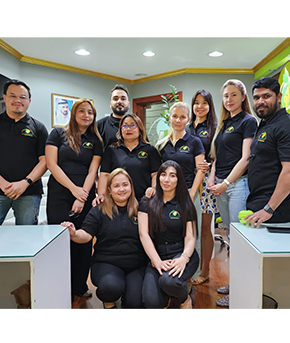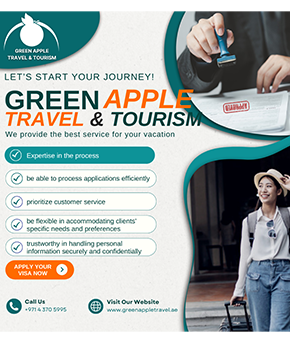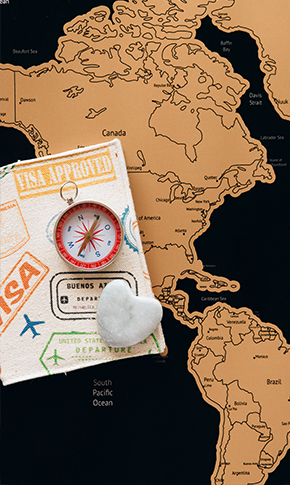 Why Choose Green Apple Tourism?
We Make Our customers happy by giving Best services.
Expertise
Our team of experienced professionals specializes in visa applications for countries around the globe.
Personalized Support
We guide you through the entire application process, ensuring a stress-free experience.
Competitive Pricing
We offer affordable rates and flexible payment options to cater to your needs.
Fast Processing
Our efficient processes ensure quick turnaround times for your visa application.
SEE HOW WE WORK
Experience seamless visa application services in Dubai.
Our expert team specializes in providing efficient and reliable visa application services to Dubai for a hassle-free travel experience. Trust us to handle all your visa needs with utmost professionalism and attention to detail.