Kazakhstan Visa from Dubai - Green Apple Travel & Tourism - Reliable & Quick Service
Get your Kazakhstan visa from Dubai, both reliable and quick, with a top-rated approval rate through Green Apple Travel and Tourism
Address:
301A API WORLD TOWER, Trade Center - Dubai
FAQ
Frequently asked questions
How can I get a Kazakhstan visa in Dubai?

Apply through the Kazakhstan embassy in Abu Dhabi or online if eligible for an e-visa. Our agency can assist with the process.
Is it possible to get a visa on arrival in Kazakhstan for UAE residents?

Visa on arrival is available for certain nationalities. Please check the latest entry requirements for your specific case.
How much does a Kazakhstan visa cost?

Generally, you will need a passport valid for six months, application form, photo, and possibly an invitation letter, among other documents.
The cost for a Kazakhstan visa can vary depending on visa type and duration. Check with the Kazakhstan embassy or use our visa service for detailed pricing.
Kazakhstan Visa Services from Dubai
Experience the ease of obtaining your Kazakhstan visa from Dubai with Green Apple Travel & Tourism. Our expert team ensures a streamlined and efficient visa application process, handling all documentation to facilitate your journey to Kazakhstan. We offer a tailored service to meet your specific needs, guaranteeing a hassle-free experience. Reach out to us for swift and reliable visa assistance at [email protected] or call 043333221.
Tourist Visa Requirements for Kazakhstan
Original passport valid for a minimum of 6 months beyond the requested visa's validity.
UAE residence permit valid for a minimum of 3 months.
One (1) Passport Size Photo. (Photoshoot available in our office.)
NOC from your sponsor.
Visa Type and Validity
Kazakhstan Tourist Visa: Single Entry, valid for 30 days.
Processing Time
Total process for visa: Approximately 14 working days (Invitation process: 7-10 working days; Visa process in Consulate: 3-4 working days).
Visa Free and Invitation Information for Kazakhstan
Citizens of certain countries can enter Kazakhstan without a visa for up to 30 calendar days. This includes nations like Australia, the US, UAE, Japan, and various European countries. For others, such as Bangladesh, Egypt, Iran, and India, we can assist in issuing an invitation, provided they hold a high position and have a mandatory UAE resident visa.
Note: We are unable to process visas for citizens of Afghanistan, Nigeria, and Sudan.
Our assistance includes getting an invitation, scheduling an appointment with the Consulate, and making the application. The price is 850 AED, with a visa validity of 30 days.
Green Apple Travel & Tourism is dedicated to providing comprehensive and meticulous visa services, ensuring that your trip to Kazakhstan is planned without any inconvenience.
---
Customer Reviews
★ ★ ★ ★ ★
Based on
768
reviews
I visited them for Thailand Visa in January, I got the visa after 3 days. Again I applied for Malaysia Visa after a few weeks, I got it after 3days. Even though my Spain Visa with them was not approved in early March which may be due to the early days of Covid-19, I will continue to do business with them . Good Company.
The opportunity travel to Europe was once in a lifetime. I was thrilled when I got the final notice that i am going with very short notice since I was on my annual vacation in Philippines. I thought i run out of time to acquire the Russian Visa but with the help of Miss Ruema, I made to Moscow, Russia. It was a fantastic experience and I am so glad Green Apple Travel & Tourism extended their hands to me to my colleague.
Every positive thing your read about Green Apple Travel & Tourism is true. If you have a visa requirement just pick up your phone and call them. I had to apply for Russia and China visa and specifically for Russia Visa there seems to be a few extra process involved and i also did not have much time to do it by myself. I gave them a call and i got all the details over the phone and quick headed to their office to drop off my passport. 1) all details were collected precisely 2) I just had to give my passport(No NOC, Bank Statements etc) 3) since i needed 2 Visas, Ms Kia took care of my case and explained to be the process in a very detailed manner. I was quite satisfied. 4) i was told if all goes well, I would my passport back on 25th of July. 5) I got my passport back on the 22nd of July with both the visa stamped. 6) I got timely updated on the status of my Visa and everything was very transparent. If you need a hassle free visa application procedure, dont think twice. You will not be disappointed. Thank you green apple travel and tourism for your amazing support.
For first timers getting visa to USA one must have strong ties with the country they are applying from like stable job, own property, already married, lot of travel history. Application is a crucial part and one must be proactive and check every entry before submitting application. Going through Green Apple helped I consulted Haydee she was very patient and polite and answered all my questions.
Firstly, this is a trusted Travel/Visa Service Agency. Thanks to Kia for being so accommodating and supportive throughout the entire process of me getting that Thailand Visa.The process was so smooth, easy and shockingly fast with zero hassle and I would definitely recommend this agency to everyone 100%. The team is excellent and efficient, not to mention Kia made you feel safe doing business with them, providing all required information with every single details to any questions. Please ask for her and don't hesitate to use their services.
I applied to USA visa application through Ms Brenda she was helpful and provided the required assistance she have a good experience in visas applications it not my first time to work with her am always asking her to do my visas Applications. Well done Brenda! And wish you all the best .
Highly recommended! Miss Ruwema assisted us to get our Russian tourist visas without any hassles. She is very reliable and quick to respond to queries. I will definitely use their visa services in the near future!
I have contacted Green Apple travels for my US visa application, Ms. Kate helped me and guided me so well that during my interview I didn't face any issues. Thank you Green Apple travels team for your support.
It was great doing business with this agency. Ms Kate assisted me in my application for Bahrain visa. She is very patient and very responsive in all of my inquiries. I successfully got my visa and thanks for her help.
It was wonderful meeting Ms. Kate, very helpful, very easy to talk to and the whole process was rather smooth. I would highly recommend this agency. All needs are fulfilled and they do their best in order to make the person feel ready for the interview and so forth. Amazing job!
My transaction was processed in a very professional manner by Ms.Kate. She was extremely helpful, understood the urgency and stayed beyond office hours to ensure that all the details are correct and application is submitted. Thank you Kate and Green Apple for amazing service !!
Really a very great experience with Green apple, everything done on time, no delay, specially Ms. Anastasia. She is a very great and helpful person, at any time giving her assistance and never ignoring her customers. Really recommend for all. Thanks a lot Green Apple. And many special thanks for Ms. Anastasia
Visa Applications
Comprehensive visa application services for various countries.
Document Preparation
Expert guidance on preparing and submitting the required documents.
Application Tracking
Stay informed about the progress of your visa application.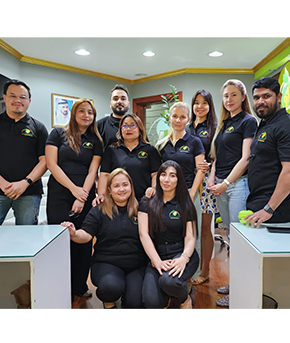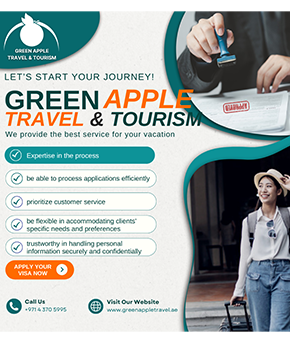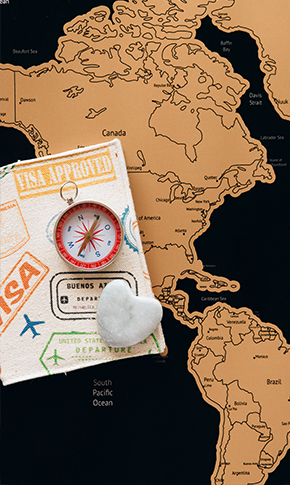 Why Choose Green Apple Tourism?
We Make Our customers happy by giving Best services.
Expertise
Our team of experienced professionals specializes in visa applications for countries around the globe.
Personalized Support
We guide you through the entire application process, ensuring a stress-free experience.
Competitive Pricing
We offer affordable rates and flexible payment options to cater to your needs.
Fast Processing
Our efficient processes ensure quick turnaround times for your visa application.
SEE HOW WE WORK
Experience seamless visa application services in Dubai.
Our expert team specializes in providing efficient and reliable visa application services to Dubai for a hassle-free travel experience. Trust us to handle all your visa needs with utmost professionalism and attention to detail.