Hassle-Free Indonesian Visa Services in Dubai - Green Apple Travel & Tourism
Secure your Indonesian visa in Dubai through Green Apple Travel & Tourism. Experience hassle-free processing with no need for an embassy visit or appointment. Trust our quick and dependable service, boasting a high success rate in visa approvals. We also offer convenient pick-up and delivery of your documents directly to your doorstep
Address:
301A API WORLD TOWER, Trade Center - Dubai
FAQ
Frequently asked questions
How can I get Indonesia visa in Dubai?

To apply for an Indonesian visa, you'll need to visit the Indonesian Consulate in Dubai or apply online for an e-visa if available for your travel purpose.
How much is Indonesia visa fee?

The cost for an Indonesian visa varies by visa type and length of stay. We recommend checking with the Indonesian Consulate or our agency for the latest fees.
Where to apply for Indonesian e visa?

Indonesian e-visas can be applied for through the official immigration website of Indonesia or through our agency, which can assist with the application process.
Hassle-Free Indonesian Visa Services in Dubai with Green Apple Travel & Tourism
Plan your adventure to Indonesia with ease, thanks to the comprehensive and efficient visa services from Green Apple Travel & Tourism. Our team is dedicated to providing a seamless visa application experience in Dubai.
From document collection to submission, we handle every aspect of obtaining your Indonesian visa, ensuring a high approval rate and dedicated support.
Tourist E-Visa Requirements
Original Passport valid for at least 6 months.
UAE Residence visa valid for at least 3 months.
Two passport size photos with white background (Photoshoot available).
NOC from your company addressed to "Indonesia Embassy – UAE" (Free sample available).
3 months original bank statement.
With Green Apple Travel & Tourism, your Indonesian visa application is in capable hands, allowing you to focus on planning an exciting trip without worrying about visa complexities.
---
Customer Reviews
★ ★ ★ ★ ★
Based on
784
reviews
It was great experience and I always get my visa done by them. Dima provided great assistance.
Sajjad was very helpful and fast responding during all my visa process. Happy with the service!
Good morning It was amazing experience specially thanks to Ms Ruema helped me a lot in the process, and I got the visa in short time really professional thanks a lot
Absolutely amazing service thanx to Rayane and team for arranging my friends visa so quickly highly recommended thank you
I would like to say Thank you for agent Dima who helped me very quick to get Chinese visa . She was always in touch and answering all my questions
I?m happy i got my Tanzania visa with in 3 day the girl who was following my friend and I visa she did amazing job here name is rayane she is amazing with he personality
Used their visa services for the first time! Excellent communication and day to day updates! Highly recommend Sajjad! Delivered what he promised.
Excellent service and efficiency from Sajjad at Green Apple. Never knew visa handling could be made soo easy! Thank you Sajjad.
Really quick service from them. I was dealing with Sajjad on getting a visa to Thailand. He was upfront on the visa processing times. Will surely use them again
I would highly recommend their service.Kudos to Miss Kate Bustarde ,she?s been a wonderful help and accommodating while I?m applying for the visa .Thank you GATT .God Bless
Thank you for the professional and prompt services , Ms Dima was so helpful throughout the whole process and will definitely deal with her and the agency again ..
Thanks for Dima had help me to get appointment which is I?m very grateful for. Quick response, easy follow up and excellent service. Thank you dima and green apple travel!
I?m happy I found you guys definitely I will keep dealing with you from now on ,thanks for Ms. Rayane she was professional and on time , the best service ever I even didn?t move from my place all done perfectly ?
Ms. Kate is very helpful with my Greece visa application. Approved in 3 days. Thank you.
Thanks for Green apple and specially Dima who assisted me and completed my documents in a very short time and the service was really quick and smooth with an amazing attitude, for sure I will go there again for any future assistance
I am always dealing with Green Apple Travel, and Thank you to Miss Rayene, A helpful person, Always showing a great assistance, Professional and giving the right dates. Many Thanks.
Great service! Polina was very helpful to get my visa done. Definitely will recommend to my friends.
I want to thank Tosha for excellent work and great understanding in my personal needs . Everything was done professionally and polite! I personally recommend her services!
It?s an appreciation to Mr Sajjad for his outstanding assistance in facilitating a smooth visa processing experience. Thank you for your invaluable support.
I was so impressed with the service I got from SYED SAJJAD, who constantly checked in with me on early dates he could find for my visa appointment. He was incredibly helpful. Five star all the way. ??????????
Today I send all documents for bahrain visa and finish for one day. Thank you for Sr. Rayan for help me. Next time I contact to here direct. I advice the customer to contact her directly.
Incredible, very very good service, Kate was the BEST. Very professional, very polite, she started the job immediately and finished it very fast. Highly recommended for fast turnaround cases. ????????????
Dear Kate and Green Apple team. Thank you so much for your services . Yesterday I got my first Schengen visa . I am really thankful to you Kate and your assistance. I wish to go for further services through you guys in future. Thanks Dixit
Ms. Kate was very helpful and reliable. This is my second time getting my Turkey visa and it was fast and accurate. To the people who seek for visa assistance, I truly recommend Green Apple Tourism!
Thank to Green Apple Travel & Tourism and Specially to Ms Rayan for the professional service she render to get the visa. I'm very happy with her service, she's very professional and not rude. I will come again whenever I want to make any visit Visa and I will surely recommend Ms Rayan and Green Apple Travel to others. Keep it up ??
Thank you to Green Apple Travel, it was a very fast service. Thank you so much also to Ms. Ruema who gave us her kind assistance for the Jordan visa we need. Highly recommended!!! Keep it up & more blessings & success! GOD BLESS!
I wish to thank Ms. Kate who helped us with the Schengen visa application process. She was very professional, meticulous and approachable. She guided us well and and as a result we were stress free.
Ms. Ruema of Green Apple Travel & Tourism has always been accommodating & professional, same goes with the other employees there. I got my 2 Russian VISAs from them for June 2019 & November 2019. Thank you once again for taking care of my application. I got to see Russia in 3 seasons: summer, fall & winter! ?? Hoping to visit again during spring time! ??????
Visa Applications
Comprehensive visa application services for various countries.
Document Preparation
Expert guidance on preparing and submitting the required documents.
Application Tracking
Stay informed about the progress of your visa application.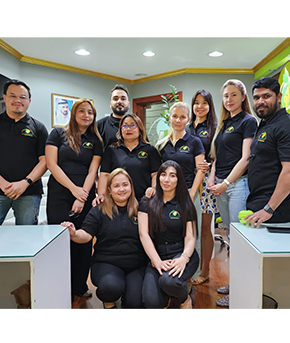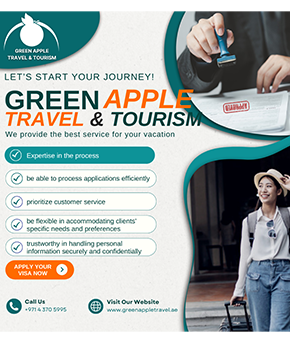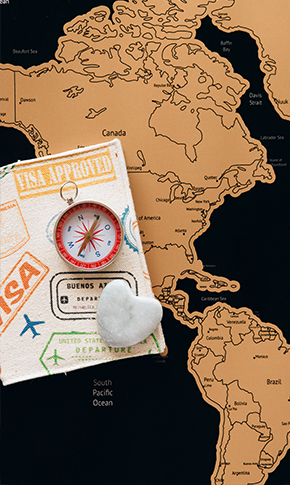 Why Choose Green Apple Tourism?
We Make Our customers happy by giving Best services.
Expertise
Our team of experienced professionals specializes in visa applications for countries around the globe.
Personalized Support
We guide you through the entire application process, ensuring a stress-free experience.
Competitive Pricing
We offer affordable rates and flexible payment options to cater to your needs.
Fast Processing
Our efficient processes ensure quick turnaround times for your visa application.
SEE HOW WE WORK
Experience seamless visa application services in Dubai.
Our expert team specializes in providing efficient and reliable visa application services to Dubai for a hassle-free travel experience. Trust us to handle all your visa needs with utmost professionalism and attention to detail.