Hong Kong Visa Application in Dubai - No Embassy Visit with Green Apple Travel & Tourism
Obtain your Hong Kong travel paperwork in Dubai with Green Apple Travel & Tourism. Skip the embassy visit and interviews ? simply email us the necessary documents without the need for your original passport or a trip to our office
Address:
301A API WORLD TOWER, Trade Center - Dubai
FAQ
Frequently asked questions
Which country can enter Hong Kong without visa?

Nationals of about 170 countries and territories may enter Hong Kong without a visa for periods varying from 7 days to 180 days, depending on nationality. Check with the Hong Kong Immigration Department for your specific country's details.
How can I get Hong Kong visa in UAE?

For other nationalities requiring a visa, you can apply through the Chinese embassy or consulate in the UAE, or utilize a trusted travel agency to facilitate the process.
How to get Hong Kong visa?

The application process for a Hong Kong visa includes submission of the required documents, payment of the visa fee, and potentially an interview. Assistance through our agency can streamline this process.
Hong Kong Travel Paperwork Services in Dubai by Green Apple Travel & Tourism
Simplify your Hong Kong travel documentation process in Dubai with Green Apple Travel & Tourism. We offer comprehensive services to handle all your visa requirements without the need for an embassy visit.
Our dedicated team ensures compliance with Hong Kong's visa regulations, making the process efficient and stress-free for tourist, business, or transit visas.
Tourist Visa Requirements
Passport copy valid for six months or more.
UAE residence visa valid for 3 months or more.
Copy of other visas from another country.
No Objection Certificate (Template available).
Online copy of bank statement for the last 3 months.
Recent 2 passport-size photos in white background.
Covid Vaccination (3 doses or more).
Hong Kong Tourist Visa Details
The validity of the Hong Kong Tourist Visa is determined as per the Immigration of Hong Kong's approval. The processing time can be up to 45 working days.
Choose Green Apple Travel & Tourism for a smooth travel experience to Hong Kong, where we ensure convenience and professionalism in every step of your visa application process.
---
Customer Reviews
★ ★ ★ ★ ★
Based on
758
reviews
Hi, I was interacting with Dima for my chinese visa application. She was wonderful and patience enough to accommodate me with all my questions. She is one of the professional people have come across in my life so far in Travel Industry. Much appreciated your company to have such wonderful people to shine your company name and take it to next level. Please convey my regards and appreciation to Ms. Dima. Thanks Murugan
I recently had the pleasure of working with Rayane as my travel agent, and I cannot express how satisfied I am with the services provided. Communication with Rayane was seamless throughout the entire process. They promptly responded to my queries, provided updates on any changes or developments, and offered valuable insights and recommendations. Their responsiveness and availability gave me peace of mind, knowing that I could rely on them for any travel-related concerns. Overall, I highly recommend Rayane Gatt as a travel agent.
Visa Applications
Comprehensive visa application services for various countries.
Document Preparation
Expert guidance on preparing and submitting the required documents.
Application Tracking
Stay informed about the progress of your visa application.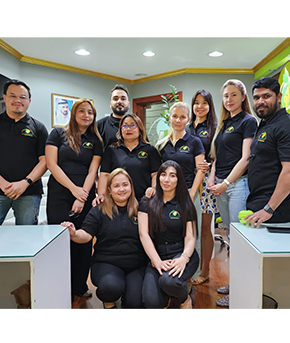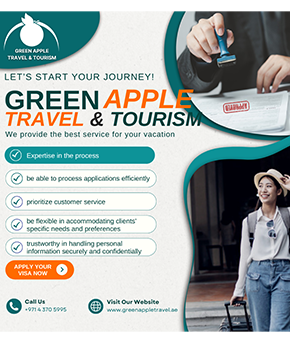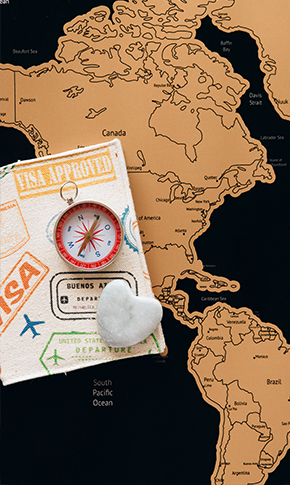 Why Choose Green Apple Tourism?
We Make Our customers happy by giving Best services.
Expertise
Our team of experienced professionals specializes in visa applications for countries around the globe.
Personalized Support
We guide you through the entire application process, ensuring a stress-free experience.
Competitive Pricing
We offer affordable rates and flexible payment options to cater to your needs.
Fast Processing
Our efficient processes ensure quick turnaround times for your visa application.
SEE HOW WE WORK
Experience seamless visa application services in Dubai.
Our expert team specializes in providing efficient and reliable visa application services to Dubai for a hassle-free travel experience. Trust us to handle all your visa needs with utmost professionalism and attention to detail.