Apply for Australia visa in Dubai - Hassle-Free with Green Apple Travel & Tourism
Secure your Australia travel entry pass documentation in Dubai effortlessly with Green Apple Travel and Tourism. No interviews ? simply email us the necessary documents. No original passport or office visits needed
Address:
301A API WORLD TOWER, Trade Center - Dubai
Australia Travel Entry Pass Services in Dubai
Planning a trip to Australia from Dubai? Green Apple Travel & Tourism offers a streamlined and hassle-free solution for your Australia travel entry pass. Our experienced team is committed to managing all aspects of the visa process, ensuring a reliable and efficient service. Let us simplify your Australian visa application, so you can focus on the excitement of your trip. Trust in our expertise for a smooth journey to Australia. For expert visa assistance, contact us at [email protected] or call 043333221.
Tourist Visa Requirements for Australia
Passports valid for six months or more.
UAE residence visa valid for 6 months or more.
NOC letter from your employer or sponsor.
Original 6 months bank statement with bank stamp.
Photo with white background. (Photoshoot available in our office.)
Visa Types and Processing Time
Visa types include Tourism and Business. The processing time for an Australia visa is approximately 25 working days or more after the appointment.
Our Service for Australia Visa
Expert advice on documentation needed for Australia visa application.
Assistance with booking tickets and hotels.
Help with filling out the online visa application and completing the visa fee payment process.
Scheduling the appointment.
Sorting your application and preparing it for the appointment.
Rely on Green Apple Travel & Tourism for a comprehensive and efficient approach to your Australia visa application. Our commitment to excellence and attention to detail ensures a hassle-free preparation for your journey to Australia.
---
Customer Reviews
★ ★ ★ ★ ★
Based on
762
reviews
Rayane Gatt Excellent service ,??????
Im glad with green Apple services. Got multiple entry 1 year visa for Netherlands. Branda Gatt has provided best service.
Excellent service, highly professional & friendly their staff BRENDA , very friendly & professional lady did application & appointment booking for visas to turkey & Schengen to Italy which both were issued successfully in a considerable fast time though both applications were during the summer peak, I highly appreciate & highly recommend their service especially Ms.Brenda
I just wanted to share my experience dealing with Green Apple Travel & Tourism.I would like to thanks Ms.Ruema Ballacillo for being customer focused, cheerful , accommodating,cheerful and always willing to help and listen to the customers.Thanks again for being so proactive and approaching person.Thank you for the excellent customer service for helping me to get fast the China Visa that i was applying to your company.
Kate had been outstanding with her work and that really helped me get my US visa. I would surely recommend her to all my friends . Thank a lot!!!
Hi Kate we had a very good experience with you n thanks for helping us in getting our us visa. I am happy with your services.thanks Kate.
Visa Applications
Comprehensive visa application services for various countries.
Document Preparation
Expert guidance on preparing and submitting the required documents.
Application Tracking
Stay informed about the progress of your visa application.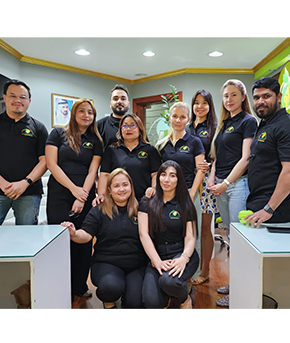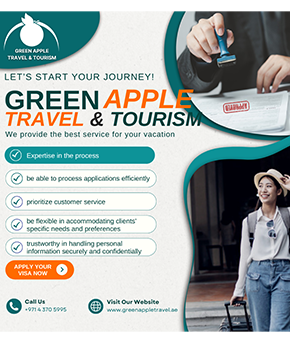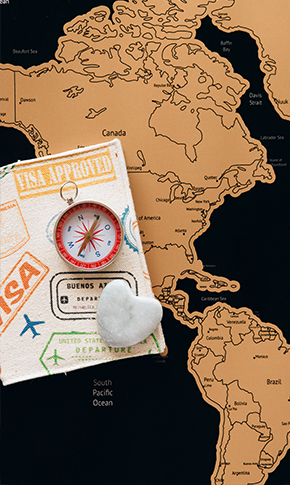 Why Choose Green Apple Tourism?
We Make Our customers happy by giving Best services.
Expertise
Our team of experienced professionals specializes in visa applications for countries around the globe.
Personalized Support
We guide you through the entire application process, ensuring a stress-free experience.
Competitive Pricing
We offer affordable rates and flexible payment options to cater to your needs.
Fast Processing
Our efficient processes ensure quick turnaround times for your visa application.
SEE HOW WE WORK
Experience seamless visa application services in Dubai.
Our expert team specializes in providing efficient and reliable visa application services to Dubai for a hassle-free travel experience. Trust us to handle all your visa needs with utmost professionalism and attention to detail.